White Kenmore 11.6 cu. ft. Upright Freezer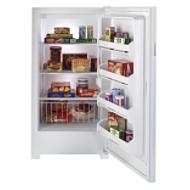 I love Sears appliances!
A growing list of what freezes well.
We advocate cooking meats and freezing them to provide you with more free timetime. Imagine making a casserole and instead of having to dice onions, celery, carrots or cook meat you can just pull it out of the freezer and dump it in. It could save you up to 45 minutes (thawing meat, cooking meat and cleaning dishes used to cook and thaw). So now a casserole that did take 50 minutes to prepare now takes 5 minutes! What a blessing!!!! So here is our ever growing list of what freezes!